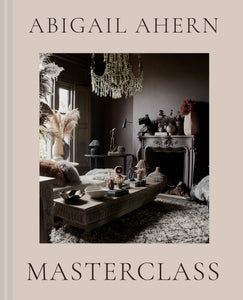 The new book from interior design powerhouse Abigail Ahern, Masterclass is based on the building blocks that will make your home look great: seating, lighting, walls, floors and accessories. Abigail demonstrates her style perfectly with original location photography and case studies of fabulous homes.
The furniture is in, the cushions are plumped, the shelves are up but something is missing… a touch of design magic. This book takes interiors to another level – encouraging all of us to become home design rule-breakers, from combining polarizing qualities and using elements that shouldn't work together but actually do, to never mixing too much of the same period or style in a space. Globally recognized interiors guru Abigail Ahern uses lavish colour photography and tried-and-tested tips to demystify the design process and decode exactly why a space works.
From key furniture arrangements and fail-safe magic formulas for surfaces, to cracking the code on mixing and matching lighting, from 'fake it till you make it' flooring to stylish statements with tiles, as well as remedies for renters, there are infinite ways to spice things up. Abigail imparts the tips, tricks and insider knowledge that she has honed over many years at the top of her game. Her friendly and witty writing style means that you'll feel like you're learning while being entertained. With this book, you'll create a relaxing yet swoon-worthy home by layering lighting, combining colours just right, putting the sofa where it belongs (clue: not where you'd think) – and much more.