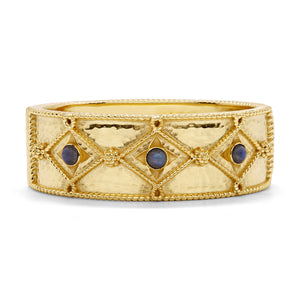 Channel your queen energy with this bright, bold and golden bangle from Capucine De Wulf. With a striking crown-like motif studded with majestic blue labradorite stones, this is the perfect power piece for solving problems and uplifting others - with poise and grace.
18K gold IP over brass.
As each piece is entirely made by hand with natural materials, they will all vary slightly and carry the soulful imperfections of the artisan who made it.
2.3" x 0.9" x .3".