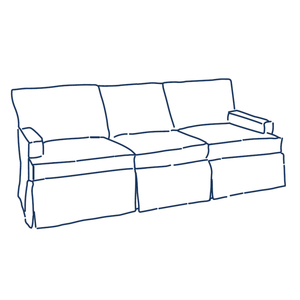 Meet Wendy: 
a classic silhouette with squared arms, loose back cushions and optional skirt. 
Dimensions: 
90 W x 38 D x 38 H |   Seat Height: 18  |  Seat Depth: 23
 Available to Customize: 
- Customers Own Material 
- Available to customize length of sofa
- Skirted or No Skirt
-  Cushion Choice: Standard Foam Down Wrapped | Upgraded Spring Down Wrapped
- Seat cushion: Split (2) | Bench (1) | Three Across (3)
- Back Cushion: Split (2) | Three Across (3)
- Leg: multiple styles and finishes available
- Price shown is starting at for a standard cushion and fabric chosen from our library. 
Ready to order? Give us a call at 404-467-0311 to make selections and customize. There is a chance we might have what you're looking for on the floor. If not, please allow 10-12 weeks for order to arrive.