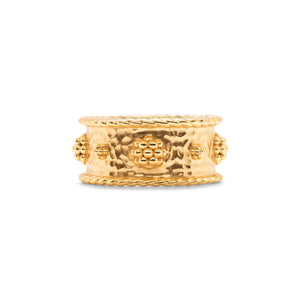 From Capucine De Wulf comes this striking ring in gleaming gold. Embellished with beautiful berries and a twisting trim, it's perfect to wear while penning novels, typing emails or giving your bestie a high-five. Equally lovely dressed up or dressed down, in a ring stack or on its own.
18K gold IP over brass.
As each piece is entirely made by hand with natural materials, they will all vary slightly and carry the soulful imperfections of the artisan who made it.