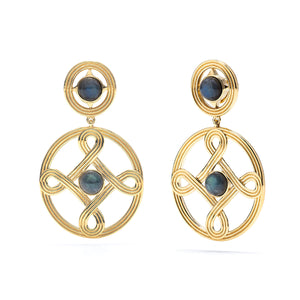 From Capucine De Wulf come the Monique double drop earrings. A study of circles and featuring a swirling rendering of a compass pointing north, south, east and west with a blue labradorite berry at each center like a dazzling North Star guiding you from the firmament.
18K gold IP over brass.
As each piece is entirely made by hand with natural materials, they will all vary slightly and carry the soulful imperfections of the artisan who made it.
1.9".