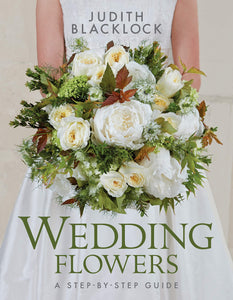 "This book is for everyone who loves flowers and wants to take on a wedding for themselves, a family member or a friend. I like to think I have explained the techniques and skills that will be needed using language that is easy to understand, equipment that is easy to source and flowers that, on the whole, won't cost a fortune. Many of the designs, particularly in section one – Flowers for the Venue – can be arranged for other special occasions such as anniversaries.
I have used a star system for each step-by-step design. With regard to the skills required, one star means that the design is straightforward, two that it's a little more difficult and three that you will really have to concentrate. As for the mechanics, the stars refer to how easy it is to find the equipment to recreate a similar display. I have tried to keep the components as simple as possible, but remember – with the internet, most things are readily available these days.

The images in the book have been created by me and my team at the Flower School, together with my teachers, former students and friends in the business. Many of my students have returned to their homes in different parts of the world and gone on to create bridal work second to none.

Arranging flowers for a wedding is bound to be stressful, because they have to be perfect, but when the day is over the feeling of achievement and fulfilment is incredible and you will be all set for the next one. Be sure to take photographs so you can remind yourself just how well you have done."
- Judith Blacklock