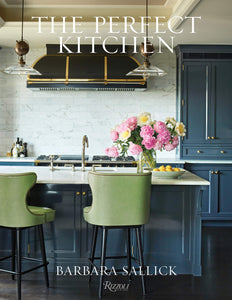 A chic, polished guide to creating your dream kitchen from the cofounder of Waterworks, with hundreds of images and practical advice.
The kitchen is the heart of the home, the destination of every party, everyone's favorite gathering spot, where style and functionality must go hand in hand. Designing a kitchen is a vastly complicated affair, involving an array of appliances (movable and fixed) and storage zones, not to mention addressing the kitchen's role as a multifunctional social arena to be used from very early in the morning until late into the night. Creating a timeless, high-functioning space is daunting indeed. Where is one to begin?
In 
The Perfect Kitchen
, Waterworks cofounder Barbara Sallick explores the process of designing a kitchen in great and beautiful detail, from surfaces and finishes to storage, cabinetry, and hardware. The book is enriched by dozens of images of kitchens by esteemed designers such as Steven Gambrel, Gil Schafer, and Suzanne Kasler; essays by top food icons including Julia Turshen and Melissa Clark about their own kitchens; and important, how-to advice.
Combining evocative, informative photography with an authoritative, engaging narrative, 
The Perfect Kitchen
 is an essential, lasting resource that will appeal to discerning homeowners and professionals alike looking for upscale visual inspiration and design advice.