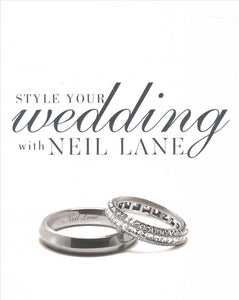 Advice and inspiration for the wedding of your dreams from Neil Lane, celebrated "Jeweler to the Stars"

In this gorgeous book, Neil Lane guides couples through the process of selecting and refining their own wedding aesthetic. Rich photography highlights six key wedding styles: romantic, lavish, modern, elegant, rustic, and vintage, with Neil's personal take on what makes each style distinct and how couples can turn their big day into something uniquely and very decidedly their own.

Neil's insight and advice will encourage and inspire—from how to determine personal wedding style and what to look for in a reception venue, to the basics of stationery and how it sets the tone for a wedding, to selecting centerpieces, bouquets, and boutonnieres. He has many years of experience working with engaged couples and shares everything that's needed to execute one of the most important days of their lives. 

Beautifully finished with foil accents, Style Your Wedding with Neil Lane makes the perfect gift for you, or for any couple dreaming of their walk down the aisle.