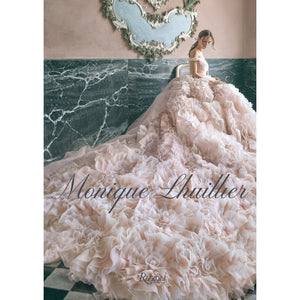 Dreaming of Fashion and Glamour 
This ultra-stylish debut book celebrates the eternally feminine, whimsical, and divinely chic red-carpet dresses and bridal gowns created by one of fashion's foremost designers.

Internationally acclaimed fashion designer Monique Lhuillier started by designing exquisite bridal wear in 1996 in Los Angeles. With collections that are sophisticated and feminine and appeal to modern women, Lhuillier expanded to include ready-to-wear, footwear, bags, accessories, and fragrances. Her distinct aesthetic is inspired by her mother's graceful style combined with Lhuillier's trademark refined touch of romance--adding a splash of glamour and a playful fairy-tale element to each design. From dazzling red-carpet cocktail dresses and alluring eveningwear to her showstopping bridal gowns, every beautiful piece is created with the finest fabrics and unparalleled craftsmanship.