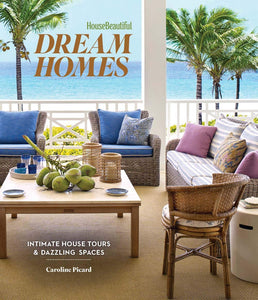 The country's most popular interior design magazine presents a gorgeous and inspiring book that whisks you off on a private tour through some of the world's most stunning homes.
 
Whether your dream home is a chic city space or a place filled with tropical sunshine, you'll find it here! This ultimate collection from House Beautiful celebrates the art of living beautifully, from a rustic yet refined mountain retreat in Lake Tahoe to an all-season cozy cabin on a private lake in the Adirondacks; from a Montreal townhouse to a serene Swedish summer sanctuary. Throughout the book, gorgeous photographs—including never-before-seen images—pair with advice from influential names in the interior world on how to create your own dream home. 

Locations include: 
Bahamas, California, Connecticut, Florida, Georgia, Illinois, Kentucky, Louisiana, Massachusetts, Michigan, Minnesota, Montreal, New Jersey, New York, North Carolina, Ontario, Rhode Island, South Carolina, Sweden, Tennessee, Vermont, Virginia, Washington, and Wisconsin.