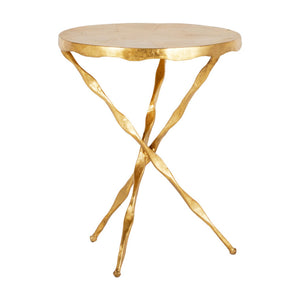 Perfectly sized to fit wherever an extra surface is needed, this small table features sophisticated styling such as twisted-ribbon style legs and a round tabletop with a softly scalloped, organic edge. The entire table has a hand-applied gold-leaf finish that gives a warm accent. 
Size: 15.25 x 15.25 x 19.25"
PLEASE NOTE: due to surging freight prices, shipping charges may be higher than reflected in your final cart. We will be in touch if shipping this product is more than anticipated. Thanks for understanding.