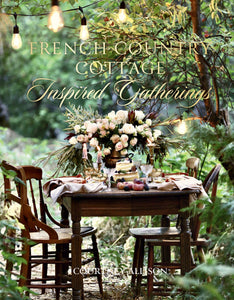 A layered mix of tableware and flower arrangements set the stage for inspired entertaining.
Entertaining starts with setting a fabulous table. In Courtney Allison's signature French Country Cottage style, she showcases a myriad of romantic table settings for every occasion. Courtney provides the styling expertise to host your own French Country Cottage–inspired gathering, whether in the backyard, at the beach, under an old oak tree, or in a country barn. A simple picnic; coffee by the lake; a cheese board for friends outdoors; a bistro table for two; a long table for a formal meal―each setting exhibiting Allison's dreamy style for you to emulate. The pièce de résistance in every venue, any setting, is the gorgeous arrangements of seasonal flowers; Courtney's bouquets will take your breath away, from spring to fall, for outdoors and inside.
Courtney Allison is the author of the blog French Country Cottage and book by the same name. She also has a floral line with Balsam Hill and works as a freelance photographer and stylist for magazines and brands.