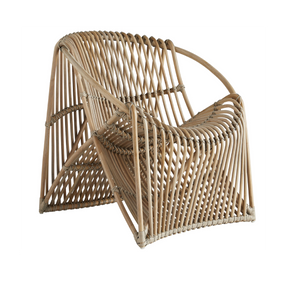 Rattan poles with light gray leather bindings are shaped over a circular frame, creating a deep seat with curves that hug you from every angle.  The negative space creates an airy volume.  The gray wash finish accentuates the organic materials and adds an extra element of natural class.  Finish will vary.

29.5"H x 29"W x 27"D
PLEASE NOTE: due to surging freight prices, shipping charges may be higher than reflected in your final cart. We will be in touch if shipping this product is more than anticipated. Thanks for understanding.