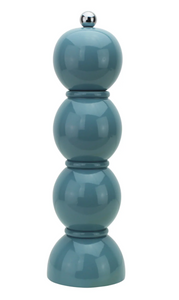 An Addison Ross exclusive design, the chambray blue cappuccino lacquered bobbin shaped mill comes with both an S and a P stainless steel screw knob so you can decide for yourself whether you want this to be a Salt Grinder or a Pepper Grinder.
The mill is made from solid Acacia wood fully FSC certified, finished with 20 coats of high gloss lacquer hand polished between each coat. Using a ceramic mechanism, the mill requires a clockwise motion to activate.
Beautifully gift boxed. Wipe surface clean with a damp cloth. Do not immerse in water. Height including screw knob 23.5cm, Base Diameter 7cm.