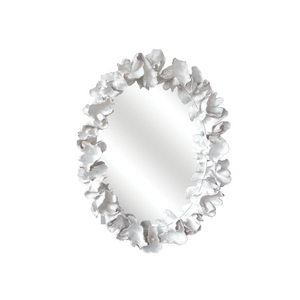 Leaf coral was the inspiration for this remarkable piece. Hours of molding and hand painting are necessary to fashion the undulating oval of white coral.  This mirror has a ruffled frame with anapproximate 6'' depth.
36"W X 47"H.  104 lbs - very heavy.
Special order -please allow 8-12 weeks for delivery! 
PLEASE NOTE: due to surging freight prices, shipping charges may be higher than reflected in your final cart. We will be in touch if shipping this product is more than anticipated. Thanks for understanding.