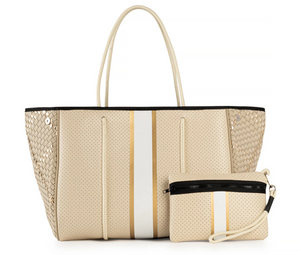 Cream coated/ white/ rose gold stripe.  Beige & gold woven sides.
This neoprene tote is the perfect blend of style and functionality.  Ultra light weight
Side panels expand for a phantom shape or snap in for a streamline look.  Removable wristlet pouch
Washable with mild soap.  Hang dry.  For coated editions hand wash recommended.
Dimensions- 18" wide (side panels expanded) x 12" tall x 10" deep
Pouch measures 8.5" wide by 6" tall